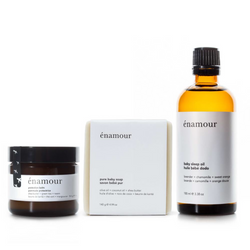 Clean, hydrate and relax using the gentlest baby products on the market — all made with pure and natural ingredients. Our Other Kit contains our delicious smelling, soothing baby sleep oil, rich and hydrating protection pommade, and a bar of our classic pure baby soap… good, you'll be using them on your skin too.
Looking for something different? See our Starter Kit, featuring Énamour pure baby soap, massage oil and diaper rash balm. 
+ All natural & vegan
+ No added color
+ No added fragrance
+ No parabens
+ No animal testing
+ Donation for animal charities
We offer a money back guarantee on your first purchase. 
If you don't love our products, we'll refund your money, it's that simple.
That's how much we love and trust our products.