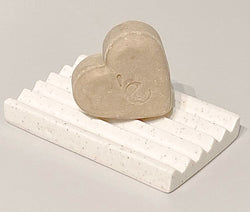 Tropical Bliss Women's Original Tropical Bliss Shampoo
Tropical Bliss Collection Shampoo

Our new shampoo bar is crafted with a hydrating formula that gently cleanses, saturating dehydrated hair with coconut oil, rich in antioxidants and reparative nutrients.

Enriched with an extract, it helps preserve color, soften the scalp, and maintain hydration. It leaves behind an enchanting fragrance of tiare flower and coconut.

Our shampoo is free of sulfates and silicones, benefiting both your body and the planet. Additionally, it is not tested on animals.

Ingredients: Sodium cocoyl isethionate, chamomile hydrosol*, jojoba oil*, broccoli oil, reetha powder, coconut milk powder, orange powder, marshmallow root, white clay, castor oil*, rice proteins, wheat proteins, clementine essential oil, sunflower oil and natural fragrance*, provitamin B5, plant-based collagen, vitamin E, Potassium Sorbate, and tiare absolute.
+ All natural & vegan
+ No added color
+ No added fragrance
+ No parabens
+ No animal testing
+ Donation for animal charities
We offer a money back guarantee on your first purchase. 
If you don't love our products, we'll refund your money, it's that simple.
That's how much we love and trust our products.