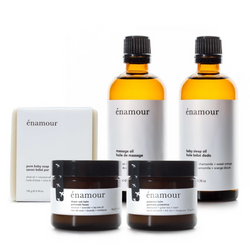 Introduce your loved ones to the benefits of all natural baby skin care products with the Énamour Baby Shower Kit, filled with soothing oils, delightful scents, and TLC. It's all here: our baby massage oil, baby sleep oil, pure baby soap, baby protection pomade, and of course the essential diaper rash pomade. 
Remember to let new parents in on the secret — these baby shower gifts are for the whole family (because we all need gentle care). They moisturize, heal and protect… without that annoying baby product smell. 
Looking for more baby gifts? Take a look at our Starter Kit and Other Kit for inspiration.
+ All natural & vegan
+ No added color
+ No added fragrance
+ No parabens
+ No animal testing
+ Donation for animal charities
We offer a money back guarantee on your first purchase. 
If you don't love our products, we'll refund your money, it's that simple.
That's how much we love and trust our products.